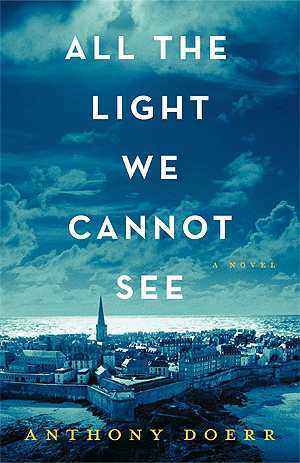 For the Full House Reading Challenge I read Anthony Doerr's novel All The Light We Cannot See.
Synopsis from Goodreads: From the highly acclaimed, multiple award-winning Anthony Doerr, the beautiful, stunningly ambitious instant New York Times bestseller about a blind French girl and a German boy whose paths collide in occupied France as both try to survive the devastation of World War II.
Marie-Laure lives with her father in Paris near the Museum of Natural History, where he works as the master of its thousands of locks. When she is six, Marie-Laure goes blind and her father builds a perfect miniature of their neighborhood so she can memorize it by touch and navigate her way home. When she is twelve, the Nazis occupy Paris and father and daughter flee to the walled citadel of Saint-Malo, where Marie-Laure's reclusive great-uncle lives in a tall house by the sea. With them they carry what might be the museum's most valuable and dangerous jewel.
In a mining town in Germany, the orphan Werner grows up with his younger sister, enchanted by a crude radio they find. Werner becomes an expert at building and fixing these crucial new instruments, a talent that wins him a place at a brutal academy for Hitler Youth, then a special assignment to track the resistance. More and more aware of the human cost of his intelligence, Werner travels through the heart of the war and, finally, into Saint-Malo, where his story and Marie-Laure's converge.
My aunt recommended and lent me this book when I was visiting her last year. I'm so glad she did! I'm always pretty reluctant to pick up modern books without a good recommendation so I might never have picked it up without my aunt's prodding. :) Got to love family. ;)
The characters are so vividly portrayed in this book and you have to love them... even when one is a Nazi soldier. Werner's story was so moving and it was partly because of the fact that he was a Nazi soldier. What he goes through and what his sister goes through is heart wrenching. The questions they ask themselves as they carry out Hilter's orders show another side. I loved Marie-Laure as well. Her father's dedication was incredible and I also adored her uncle.
A couple things I didn't like were a couple crudities, a couple bad words and one bit of mentioned immorality at the end that I thought was uncharacteristic of the character. When you read it you'll know what I mean. Overall this is a clean book but it does deal with the mature and gritty themes of war.
Read or not? Read! :)
Follow my blog with Bloglovin