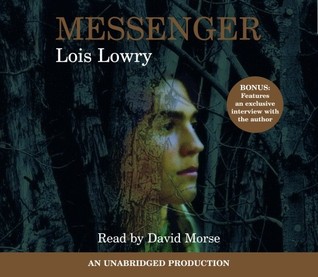 For the Library reading challenge, Audiobook Challenge and Finishing the Series Challenge I read (listened) to Lois Lowry's Messenger.
Synopsis from Goodreads: Messenger

is the masterful third novel in the Giver Quartet, which began with the dystopian bestseller

The Giver.

Matty has lived in Village and flourished under the guidance of Seer, a blind man known for his special sight. Village once welcomed newcomers, but something sinister has seeped into Village and the people have voted to close it to outsiders. Matty has been invaluable as a messenger. Now he must risk everything to make one last journey through the treacherous forest with his only weapon, a power he unexpectedly discovers within himself.
I loved Matt in
Gathering Blue
so I was excited to see him return in
Messenger
as the main character Matty, an older but still ever fun loving young man.
Messenger
picks up where
Gathering Blue
left off in the village that Kira's father resides and where Matty has joined him. It seems such an idyllic village but evil is creeping in the guise of Trade Mart. This book also sees the return of Jonas from
The Giver
, though now renamed simply "Leader". It was great to see him back and find out what happened to him after the events of
The Giver
. The story was well told and the mystery surrounding Trade Mart was perfect. When Matty died at the end I was so mad! I loved him! However it did work so I guess I can't complain
too
much.
Overall it was a beautiful addition to The Giver Quartet.
Follow my blog with Bloglovin