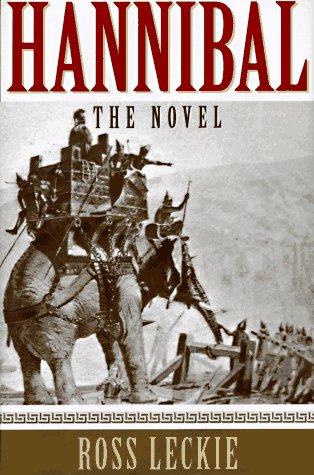 For the Mount TBR challenge I read Ross Leckie's historical novel Hannibal.
Synopsis from Goodreads:

An epic vision of one of history's greatest adventurers, the almost mythical man who most famously led his soldiers on elephants over the Alps. In Ross Leckie's unforgettable recreation of the Punic wars, it is Hannibal, the Carthaginian general, who narrates the story, and who is carried by his all-consuming ambition through profoundly bloody battles against the great Roman armies of early empire. In a breathtaking chronicle of love and hate, heroism and cruelty, one of humanity's greatest adventurers is brought to life, and learns through suffering that man is but a shadow of a dream.
When I picked up this book I kind of missed the big letters on the front that said "the novel" and I assumed it was non-fiction.... it wasn't. However, it was still a well done historical novel.
In this novel, Leckie attempts to show the hatred and ambition of Hannibal that led him to Rome. I think he does an incredibly good job of brining to life Hannibal and what he could have been feeling. That was definitely one of the best part sof the book. I really enjoyed how Leckie showed the deep love Hannibal and his wife had for each other. It obvious they cared for each other deeply. As far as the historical accuracy, I'm no historian but it seems to be pretty historically accurate from what I know of Hannibal and from what I've looked up.
Now let's get to the bad. If this was a movie it would be rated R for the violence/gore alone. I know it's the time period but it was absolutely gross how they would kill captives and torture people and Leckie described it quite vividly. Hannibal also ordered such things. That wasn't my favorite but it does make sense that he would as it was what they did in that time period. Now gore I can handle but then we come to the other reason it would be rated R... sex. We get a description of Hannibal's wedding night, multiple scattered crass comments to do with sex, an attempted rape and a not vivid description of an actual rape. I don't appreciate those at all and it definitely lessen my enjoyment of the book.
Overall I really can't recommend it because of the above negative listed. I rated it three stars on Goodreads for now.
Follow my blog with Bloglovin