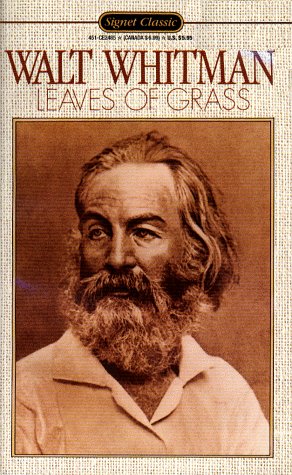 For the Mount TBR pile challenge, Shelf Love challenge, the 12 Month Classics Challenge and the Classics Club I read Walt Whitman's classic collection of poetry
Leaves of Grass
.
Synopsis from Goodreads: Whitman is today regarded as America's Homer or Dante. His work the touchstone for literary originality in the New World. In Leaves of Grass, he abandoned the rules of traditional poetry: breaking the standard metred line, discarding the obligatory rhyming scheme & using the vernacular. Emily Dickinson condemned his sexual & physiological allusions as `disgraceful', but Emerson saw the book as the `most extraordinary piece of wit & wisdom that America has yet contributed'. A century later it's his judgement of this autobiographical vision of the vigor of the American nation that has proved the more enduring. This is the most up-to-date edition for student use, with full critical apparatus.
When I selected this book for the Classics Club I had no idea it was a book of poetry.... obviously I should have done a little more research. I really am not a poetry fan. Therefore, Leaves of Grass already had a huge point against it from the start. Then it just wasn't the rare kind of poetry I like anyways. It was the kind that has an ulterior message hidden deep within it that you're somehow supposed to derive from it. My copy was used and the previous owner had written notes in it like "This is about America." Well considering that I never would have had a clue that that particular stanza was about America this was enlightening as it made me look at it in a different light. However that's my point! It was the kind of poetry that I had no clue what it was talking about half the time because it was never directly talking about what it was actually talking about and to know what it was actually talking about you either would need a study guide or be a great guesser. I'm sorry but I don't like that kind of poetry. I'm really just not a fan of poetry. If I'd known, it was poetry I wouldn't have added it to my Classics Club list. However, I did and then I read it and discovered it was poetry. So all that to say, not my favorite. There were some beautiful lines at points, though probably they meant something other than what I thought they did. It wasn't all bad.
Obviously this is really my own fault. I should have known it was poetry.
Recommend or not? Not if you're like me! If you like poetry though I suppose you'll enjoy this.
`
Follow my blog with Bloglovin